1 septiembre 2011
4
01
/

09
/

septiembre
/

2011
18:17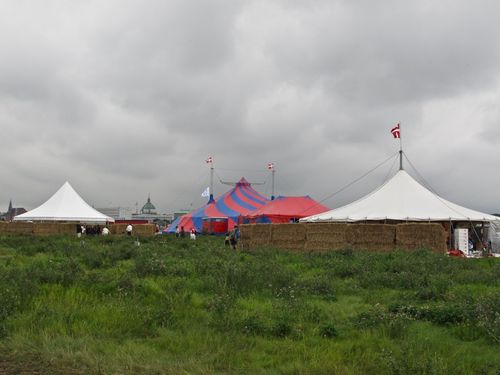 From August 27 to 28, Copenhagen hosted the 1st edition of the Mad Foodcamp (Mad means food in Danish, but there was more than a bit of craziness involved!).
Nordic food has moved from underground to celebrity status in the past two years, in large part thanks to Rene Redzepi of Noma.
It feeds into the locavore trends and seasonal fare adopted by more and more chefs like Acurio in Peru, Bras in France, Patterson in California or Aduriz in Spain. All these chefs have something in common: they use ingredients sourced locally, either cultivated or picked in the wild.
The Manifesto behind the new Nordic Food is less than ten years old. It is basically cooking with ingredients and produces whose characteristics are particularly excellent in Nordic climates, landscape and waters. That is how food was prepared hundreds of years ago, and Nordic chefs go back to the same old virtues. Not because of a naïve and romantic dream, but because it makes sense.
During the Mad Foodcamp 2011, entitled "Planting Thoughts", chefs, farmers, foragers and scientists from all over the world discussed the future of food. The event was held entirely without sponsor funding. It was not an elitist-ego-fest, as some newspapers and tweets have quipped, especially in Spain or in the UK, where the tweets from the event made it sound "cultists".
"Chefs have a new opportunity — and perhaps even an obligation — to inform the public about what is good to eat and why, but we ourselves need to learn much more about issues that are critical to our world: culinary history, native flora, the relationship between food and food supply systems, sustainability and the social significance of how we eat."
Redzepi wrote in The Guardian newspaper.


The MAD Foodcamp, held on a 55,000-square-meter meadow jutting up against Copenhagen Harbor, was put together as three separate events in one. One for the public, one for the tradesmen and one for the chefs and scientist (the symposium). The camp was built rustic style, from haystacks and tents. There were cows, outdoor grilling, public talks, and various stalls within various areas that showcased local Nordic artisans and purveyors of local produce, jams, jellies, honey and much more. Visitors could also attend as well conferences helded by "The Nordic Food Lab". A special mention for the carrot evolution speech.
The symposium itself was small, limited to only a couple of hundred attendees from across the world. The intimacy of the environment allowed for much interaction between sessions with discussions and conversation.
The presentations that followed over the next two days fell in line with the new Nordic Cuisine Manifesto. Plants were venerated by Stefano Mancuso, François Couplan, Søren Wiuff, Hans Herren, Thomas Harttung, Miles Irving and Harold McGee. The fundamental all-around tenet was the potentials of urban farming.
Some of the speaker chefs produced videos showcasing relationships with local-regional purveyors (Andoni Aduriz, Gaston Acurio, and Massimo Bottura). Others spoke of recent developments in their restaurants (David Chang, Magnus Nilsson and Daniel Patterson).
The demos by Michel Bras with his historic Gargouillou, Iñaki Aitzpitarte with a green "risotto," and Ben Shewry with a simple dish of abalone with foraged plants, tended toward the natural.
Kamal Mouzawak, creator of Souk el Tayeb-Lebanon, was one of most inspirational high notes of the symposium. During his presentation "Make Food Not War" he reflected, "Food is the best expression of yourself, your history, your roots and your land. Tasting the food [that] another has prepared enables you to absorb the food memories of another person, connecting you on a deeper level."
According to Redzepi, interactions with farmers and purveyors "can create real change". He finished by saying, "We're here to tell you that everything is possible. And even if it's not, we need to try and believe it is."
An extremely positive and hopeful mood dominated the festival even though some might have had thoughts about potential food fanaticism.
Claus Meyer, the entrepreneur behind both Mad Foodcamp and The Manifesto for The New Nordic Food, told me the story behind the idea that put the Nordic Countries on the map of international cuisine. The true results of MAD Foodcamp will become evident over the next months, even years.
We all heard of Mediterranean Diet.
Conference will open a new front, the Nordic Diet.