29 diciembre 2010
3
29
/

12
/

diciembre
/

2010
00:17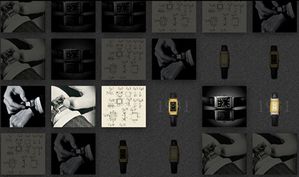 With so many variations in its versions, dimensions, complications, the Reverso is quite simply unique.
Unique in its history and its design, but above all, unique thanks to all those who one day decided to create "their own" watch. By wearing a Reverso on their wrists since 1931, men and women, be they famous or unknown, have made a cult out of a veritable icon.
In 2011, Jaeger-LeCoultre will celebrate the 80th anniversary of this iconic watch with the Grande Reverso Ultra Thin "Tribute to 1931″.
In parallel, Jaeger-LeCoultre will offer Reverso owners a place in the history of this watch and the brand. By personalising his or her Reverso, each person is adding a new line to the legend. And henceforth, all those who wish to can share their inspiration with other lovers of the Reverso across the globe through The Virtual Museum.
Jaeger-LeCoultre invites you to tell your story and exhibit your own Reverso in the Virtual Museum rooms.
Once your Reverso is registered, the Virtual Museum curator will exhibit your Reverso in one of the Virtual Museum's rooms, thus making it part of the official Jaeger-LeCoultre story!
By exposing your Reverso in the Jaeger-LeCoultre Virtual Museum, you enter the exclusive world of this legendary watch, relive its history and meet the personalities who have worn one, for example, King Edward VIII of England, the celebrated aviator Amelia Earhart or the young English girls who wore watches engraved with the insignia of Eton College, Harrow or St. Andrews University …
And, if your watch is voted on by the Virtual Museum visitors, you may win the chance to visit Jaeger-LeCoultre Manufacture!
The exposition will be open to general public online starting January 2011.