28 diciembre 2010
2
28
/

12
/

diciembre
/

2010
23:58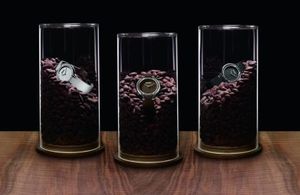 1985 saw the birth of a watchmaking icon: the Ebel Beluga.
This sensual model has inherited its namesake's voluptuous silhouette, and subtly plays on its inherent femininity with a disarming natural charm. In 2010, Beluga celebrates 25 years of glamour by treating itself to pleasures destined to delight the senses: three limited-edition variations on the theme of chocolate that transform a sweet tooth into a formidable weapon of seduction.
Ebel Beluga white chocolate, Ebel Beluga milk chocolate, Ebel Beluga black chocolate: three flavors, three temptations, presented in a harmonious combination of colors and imbued with a sensory appeal designed to create authentic gourmet pleasure. The sheer sensuality of chocolate lends itself perfectly to the unique Beluga personality.
Offering a sensorial discovery of time and an invitation to savor the passing hours, these tasty new timepieces are tempting by essence. The dials succumb to the delights of chocolate squares, while black, brown or white diamonds gently caress the softly rounded cases. Time is relished all the way through to the perfectly matching satin strap that melts seamlessly into the wrist and sets the final touch to an irresistible aura of refinement.
Ebel has called upon the talent of a famous Swiss chocolate-maker to toast Beluga's 25th birthday by creating an original caviar-themed chocolate. A genuine architect of chocolate, Max Chocolatier loves to give body and soul to its luscious creations. Procuring a blend of gustatory and visual pleasures, they crystallize the essence of excellence and passion, leaving a subtle after-taste of unique expertise and creativity. Sharing the same emotional intensity suffused with genuine enthusiasm and a taste for precision, Ebel and Max Chocolatier have each devised their own exquisite jubilee tribute to Beluga …