19 noviembre 2010
5
19
/

11
/

noviembre
/

2010
21:58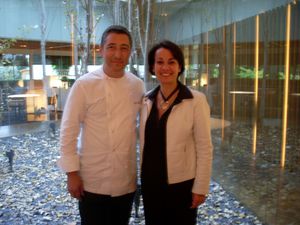 Joan Roca is a major artist.
Major and disturbing.
It has a unique vision of the kitchen, beautiful and complex.
A head ultracontemporain who never loses sight of Catalan cuisine, the keystone of his taste memory.

He is totally obsessed with cooking fairer and has expertise unstoppable in the art of cooking under vacuum. It completely cleans the food while keeping their souls. Like the patio of his restaurant, he made the choice of non-ostentatious and poetic, which leads to reflection.

His dishes are inventive and entertaining, enhanced by unique sensations. In the laboratory of culinary Celler, he was able to associate a taste with emotion:

Citrus - Joy
Milk - tenderness
Pepper-aggression
Earth - nostalgia

Through games of scholarly distillation Chief succeeded in converting a smell in flavor. After passing through the still volatile aromas of the earth are rendered in delicate rain containing taste.

This gives a "Little oysters served with distilling ground." It is an unexpected sensory journey, with a combination of flavors that amazes and surprises. You eat from the earth. More exactly you eat that you know the smell of the earth.


He is interested in the identity of the shell of St. Jacques and his double taste, mix sugar and iodized. He loves cooking a la plancha, with a touch bitter and acid to balance its original taste.

Chief Roca likes to feel they are guests in Catalonia, and apply the perception of "Land and Sea in the St. Jacques cooking with truffles at low temperature. The counterpoint of the nose changes the texture and flavor of the shellfish. Sublime.

The cuisine of El Celler de Can Roca is a reference on the international stage and represents everything the local Catalan has the best. The card is a festival of creations: Carpaccio of pig's feet with oil, sole with orange, artichoke soup with sunflower seeds, moss ratafia timbale of apple and foie gras with vanilla oil, Campari sorbet clams, shrimp in the sand, ice mushrooms on the grill. Totally captivating.

Chef Joan Roca could have chosen another profession that already exercised by the three generations before it.
Instead it cultivates a sense of family and his unusual signature can in his childhood memories. He grew up in the heart of one of the best cuisines in the world, its existence is intrinsically linked to the Catalan identity.

He looks at the world around them and the avant-garde is always put in Roca. This should not be easy to acquire an image of precursor.
But the Chief Roca was successful, without falling into the trap of too much.
It's late, discreet and beautiful.
A little too daring.
But the Chief Roca allows himself some irreverence.
And so much better.