19 noviembre 2010
5
19
/

11
/

noviembre
/

2010
21:49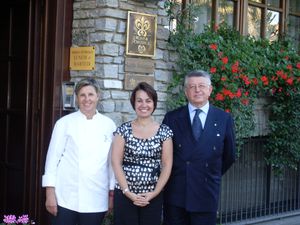 Will. Courage. Perseverance.

These are the three ingredients used by Chef Luisa Marelli Valazza when one month after buying the restaurant "Al Sorriso, in 1981, the Chief announced his departure. Degree in Literature and History of Art became cook by force of events and his appointment was without limits for the star that keep the restaurant had.
With obtaining a second star in 1987 and a third star in 1998 we made a special trip to this picturesque little village near Lake Orta for lunch or dinner there.

Plates from the Chef does not hide secrets, products or mysterious or spices from the other end of the earth. A real neat Piedmontese cuisine, talented, modernized, incredibly refined and fragrant.

Tradition accompanies each dish with a remarkable touch of innovation that has been fully studied. The simplicity is only apparent.
The questioning of the Chef is permanent.

The cuisine of Chef Valazza is full of ideas. Small things, but still very intelligent and exquisite. A mini fact find sometimes a great dish. Thus, the potato dug containing a boiled egg in its interior, which was covered with strips of truffle. An anthology of entry. Components merge and become one.

St. Jacques shells from the Adriatic are served with a cooking that Luisa Valazza loves: crisp. Seized quickly on each side and with the pearl inside. Not cold, not raw, almost translucent and pearly. Perfectly seasoned and accompanied by chips of black wild rice plains of the Po and crisp eggplant. All ingredients of this dish come together for an explosion of the senses. The contrast of textures is fabulous. The contrast of colors is a true exercise in style.
Again, the components are one.

Luisa Valazza a dish is not an inventory but the product dispersed a meeting where the herbs, picked up during its numerous mountain walks are available from the main dish to make it stand out, certainly not to stifle it. They form a perfectly secured.
This is the style of this Chef: Each dish was designed, worked, tried re-tasted, modified, completed with full control in the assembly and determination of aromatic herbs and spices.

Luissa Valazza "Carte" is an ode to local Piedmont where the best seasonal ingredients are prepared with Mediterranean influences and international.

The Chief vows deep respect and genuine admiration, growers, winemakers, farmers and local farmers who produce so completely handmade, with great sacrifice, with the products it reserves from one year to another, the entire harvest. His commitment and credo have even driven to cultivate his own garden, located over 1,000 meters. You will find on your plate vegetables from her garden.

Her obsession? Only the best raw material, ensure success when cooking uses little tricks and little mysterious molecules.

Luisa Marelli Valazza is a leader who with great generosity a symphony fluid, perfect technique, the palette of flavors and rich colors. Full of passion and art.