29 diciembre 2010
3
29
/

12
/

diciembre
/

2010
00:00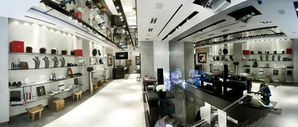 OC Concept Store, New York's first interactive luxury boutique for men, women, and children, open its doors to greet those in search of the ultimate bespoke shopping experience.
Founded by entrepreneur and jewelry designer, Orianne Collins, OC Concept Store, located at 655 Madison Avenue, will house a curated selection of the best in art, lifestyle, timepieces, beauty, leather goods, and jewelry, along side temporary art installations, all available for purchase.
Designed by architect, Christophe Pillet, the 3,400 square foot space features modern and sleek displays, along side a champagne and caviar bar, and a VIP guest services area, which provides a relaxed atmosphere with concierge level attention. Interactive hologram screens throughout the boutique allow patrons to customize their own watches, yachts, and chalets and view their creations in realtime.
The first of its kind in the US, OC Concept Store also concentrates on a remarkable variety of men's accessories produced by the world's most exclusive designers. Luxury labels housed within the store including Armani/Casa, Bamford Watch Department, Audemars Piguet, Chopard, Richard Mille, Bernard Favre, Philippe Cramer, Pinel & Pinel, Aymes, Buben & Zorweg, T.T.Trunks, and Orianne Collins Jewellery.