28 diciembre 2010
2
28
/

12
/

diciembre
/

2010
23:31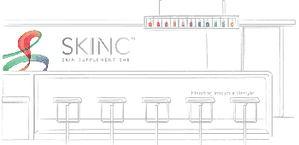 Skin Inc is the world's first Skin Supplement Bar offering highly concentrated, 100% pure and active serums and skincare from Japan.
Their customised skincare solutions empower time-starved individuals to create their own fuss-free skincare regimes!
Everyone's skin is different, so individual skin identities and their needs are addressed with products and treatments that are targeted at delivery to the skin's deeper layers where it matters. Treatments are conducted using state-of-the-art non-invasive technology that delivers sustainable results, rivalling other invasive procedures.
After a personalized skin analysis, Skin Inc's specialists custom formulate a concoction called My Daily Dose™, a blend of three concentrated serums. To suit different skin types, 84 Skin Inc different blends could be generate!
Another fundamental part of their approach is 'Patented Seaweed Encapsulation' whereby active ingredients are wrapped in seaweed capsules. This ensures the ingredients are free from oxidation, boosting their freshness and extending their shelf-life to three years.