9 enero 2011
7
09
/

01
/

enero
/

2011
21:29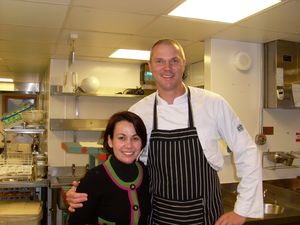 The Cliff House Hotel is a pearl – it clings to the cliff in Ardmore in a miraculous feat of engineering, and the interior style is just breathtaking – and inside that pearl is the pearl that is chef Martijn Kajuiter's cuisine.
If the design template is bold, the culinary template is bolder still. Here is a man who has subsumed all the current European mannerisms of modern restaurant cooking, and trained them up into a striking cuisine of his own. It's an holistic cuisine, embracing everything edible from shoreline to farm to wild foods to edible flowers, and the precision of the cooking means everything is plosive with flavour and full of surprises, like juniper berry ice cream with pigeon, or chive flowers with marsh samphire, or radish and dried fennel with West Cork scallops, or the daringly barely-sweet desserts.
Confident, opinionated, radical – incidentally Mr Kajuiter tweets the same way he cooks – this is food for the senses and for the intellect, good to eat and good to think.