19 noviembre 2010
5
19
/

11
/

noviembre
/

2010
21:53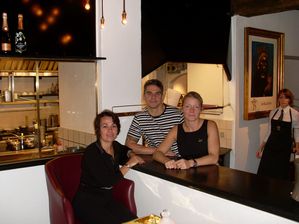 As far as his memory goes back, Chef Thomas Rode Andersen has always fished on foot. In its native region, south of the peninsula of Jutland, on the border with Germany, the tidal range is about 14 km throughout the year. Child, his little bucket was filled with all kinds of shellfish, crabs, shrimps and algae.

This is not surprising that since 1996, when he was appointed Head of the oldest star restaurant in Denmark, oysters, lobster, prawns and scallops Saint Jacques are part of his signature.

Thomas Rode Andersen belongs to the generation of talented chefs who are the new wave of Scandinavian cuisine.

His style is poetic, imbued with a genuine and true philosophy of life and very creative. It offers, through its cuisine, experience the sea, mist and forest. Danish nature inspires his dishes through the wild plants, herbs, vegetables and algae. His dishes have a color range of unusual greens.

It can its codes in a single culinary tradition, where the raw material, an incomparable freshness, does not really need additions. Danish cuisine is very pure, concise answer. Chef Thomas Rode Andersen continues this tradition of moderation and using three ingredients per dish up.


In the card, it offers dishes referring to the Danish heath, hunting, cereals and ancestral roots of the traditional cuisine of Jutland. Chef Thomas Rode Andersen is the depositary of an ancient culinary heritage which gives it a touch today to raise the rank of the best cuisines worldwide.
And above all, one of the most authentic ingredients which are very often picked, not products.

When cooking the shells of St. Jacques, he wants above all to explore the potential and taste, metallic, this wonderful shellfish. It is one of the few leaders to use when cooking beards. With the coral he dressings or gravy. He respects the delicate flesh of the nut through slow cooking, but short. For him, the shell of St. Jacques to be crispy on the outside and almost raw inside.

The style of Chef Thomas Rode Andersen is very clean. Simple, elegant and refined. It has great accuracy taste.