28 diciembre 2010
2
28
/

12
/

diciembre
/

2010
22:08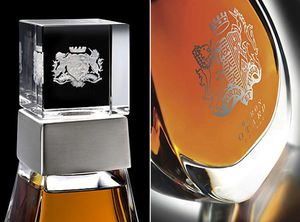 Bacardi Global Travel Retail Division has launched the rarest ever Baron Otard Cognac, the Fortis & Fidelis (the motto of the Otard family meaning "strength and loyalty").
To create this exclusive blend, the cellar master for Baron Otard personally selected some of the oldest and rarest eaux-de-vie one by one before laying the blend down to age in the cellars of Château de Cognac, home of Baron Otard Cognac since 1795. Here, the thickness of the ancient walls and the proximity of the River Charente are said to guarantee a constant temperature and ideal humidity.
It is presented in a crystal carafe designed by leading French designer Christophe Pillet and handcrafted in France by Cristallerie Royale de Saint-Louis.
Each decanter is displayed in a wooden case with a platinum lacquered finish. Also inside the case is a booklet describing the creation of Fortis & Fidelis and an automatic drawer housing a certificate of authenticity and the decanter's crystal closure!
The Baron Otard Fortis & Fidelis Cognac will be available at select travel retail outlets worldwide starting in December priced at 3.380 Euros.