28 diciembre 2010
2
28
/

12
/

diciembre
/

2010
22:13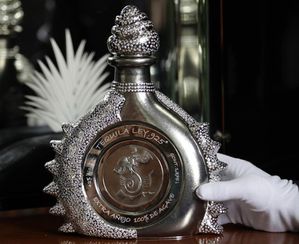 Hacienda La Capilla, a mexican distiller, has presented their newest creation that would fetch $3.58 million!
Designed by Fernando Altamirano, Hacienda La Capilla's 1.3-litre bottle christened "The Diamond Sterling" is made with 4,100 brilliant-cut diamonds, ceramic and 2.38 kg of pure platinum!
Hacienda La Capilla already holds the Guinness record for the most expensive tequila with a bottle that sold for $ 225,000 in 1996, and hopes to set a new Guinness World Record with the "The Diamond Sterling".